As we all attempt to return to some level of normal during these difficult times, so must the Parkersburg Utility Board in its collection process for services rendered. The Parkersburg Utility Board has determined it is in the best interest of the utility to resume service terminations for nonpayment, effective with termination notices issued in July. This action is taken in accordance with West Virginia Public Service Commission's General Order 262.5 authorizing the resumption of terminations. Customers that have been financially impacted by the Coronavirus and are in need of assistance in paying their past due balance should contact the Customer Service office at 304-424-8550 to make arrangements for the payment of any past due balances prior to your service being terminated. As always thank you for your trust in the Parkersburg Utility Board and its staff as we continue to provide you with safe, clean and reliable water and wastewater services.
---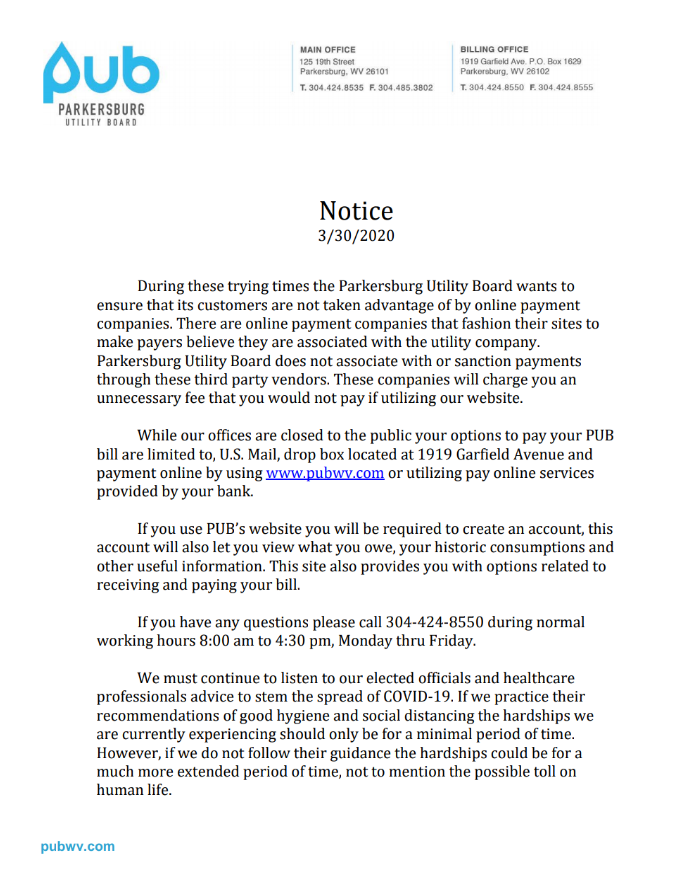 ---
---
Pay Online with Credit Card
You may pay with a valid Visa, MasterCard, or Discover credit card by providing your account information, and clicking on the "Pay My Bill" button. Information provided by Parkersburg Utility Board customers for online bill payment will be used for the sole purpose of account and payment confirmation. The Parkersburg Utility Board will not share or disclose the information provided for any other purposes. After payment has been confirmed, please allow 2-3 business days for your transaction to be posted.
---
Pay by Mail
Mail your check or money order, along with your payment stub, by using the envelope and information provided with the bill to:
Parkersburg Utility Board
P.O. Box 1629
Parkersburg, WV 26101-1629
---
Pay in Person
You can pay at the billing office (1919 Garfield Avenue, Parkersburg, WV 26101) during our normal business hours of 8 a.m. to 4:30 p.m. Monday through Friday.
---
Pay at Drop Box
At any time during regular business hours, or if you need to drop off your payment after hours or on weekends, you may do so by placing your envelope with payment enclosed in the drop box located at: 1919 Garfield Ave and #1 Government Square, Municipal building.
---
Direct Debit Payment
You can pay your monthly bill by registering your checking account with our Direct Debit Payment (DDP) service. Our DDP will automatically deduct sufficient funds from your checking account to pay the amount on your current monthly statement. To learn more, click on the links below.
---